Morocco and me
I spent my childhood in Morocco. This country has always influenced me – again and again - with its colours and emotions. First my childhood world then my world as an artist. First my infant senses were stimulated, then my sensitivity as a painter. My creative path was shaped by my aesthetic and personal experiences in Morocco. The country's symbols have become mine.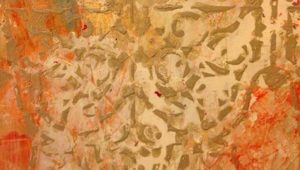 Moroccan motifs
Step by step, fascinating balancing acts have arisen based on these symbols: between emotions and techniques of craftsmanship; between tradition and modernity; between penguins and the north African desert. I am inspired over and over again to play creatively with these dimensions and dissolve the borders between them. The results are large-sized paintings which seem to have the will to force their way beyond the edges of their frames.
In my works I connect strong colours with Moroccan motifs created in traditional ways with templates which move in meditative, shimmering landscapes with depth of perspective. My intention is to share with the observer the intensity I experience in the brief moment before a great impression turns into inspiration. Morocco gives me these moments again and again with its colours and energy. I am proud to be able to share them with you.
Zebras meet penguins in Morocco

This is my biggest picture - it is twelve meters long. An intercontinental fresco: the animals move from the cold to the warmth, from the desert to a tropisLush fauna.
With every step, you discover a new, new country in new colors. In the background, as the only fixed point, traditional buildings rise into the Moroccan landscape.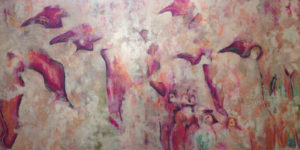 Title: Pingouins égarés (Lost penguins)
Big penguins to the left, little ones to the right. Complete chaos. The penguins in this picture move discretely, almost invisibly and stretch their alert heads out of the mist. In the centre of the painting, traditional arabian ornaments light the path for these stoical heroes.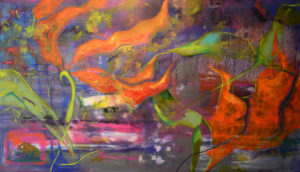 Title: le feu de lys (Flaming lilies)
Lilies – somehow too big, too bulky and on fire...on the edge of a Moroccan town, over which night has fallen. A dark fairy landscape exuding zest for life all around.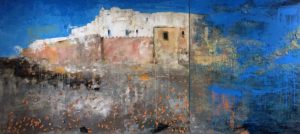 Title: Essaouira, entre nostalgie et désir (Essaouira – a place torn apart)
 
I collected dozens of empty orange glue tubes on the beach near Essaouira harbour. They are the sad mementos of young drug addicts who dream their way from here to nowhere. The town has a high wall – so high that you can only see the sky above it, and can only guess the vastness of the sea behind it... This is a place torn between beauty, dreams and grim reality.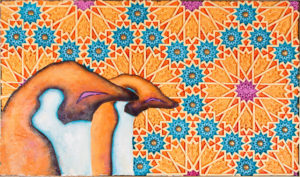 Title: banquise arabe (Arabian ice floe)
This three-dimentional picture is not painted on canvas but applied onto plaster. The penguins waddling in front of traditional arabian ornaments therefore have deep perspective – and the whole work is extremely heavy. It combines modern painting with arabian stucco technique. The colours are not in standard combinations and deviate far from traditional islamic colour schemes.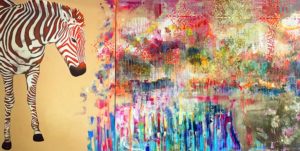 Title: les roses de l'Atlas (The roses of Atlas)
This abstract painting was inspired by a landscape that truly exists: about 20 minutes away from the Medina of Marrakesh, wild roses entwine at the foot of the snowcapped Atlas mountains. This wonderful place is an oasis of deep and restful peace – only a short distance from the deafening chaos of Marrakesh.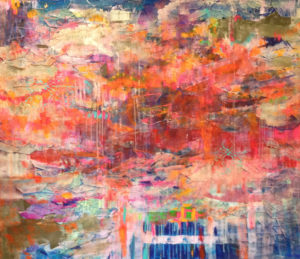 Title: bateau allo (Ship ahoy)
In my paintings I often work with little boats which I make by folding pages out of a telephone book. For me these are connections between the continents, especially between Europe and Africa. The telephone books represent a randomly assembled ship's crew: this combination of zest for life and international cooperation calls for strong colours.